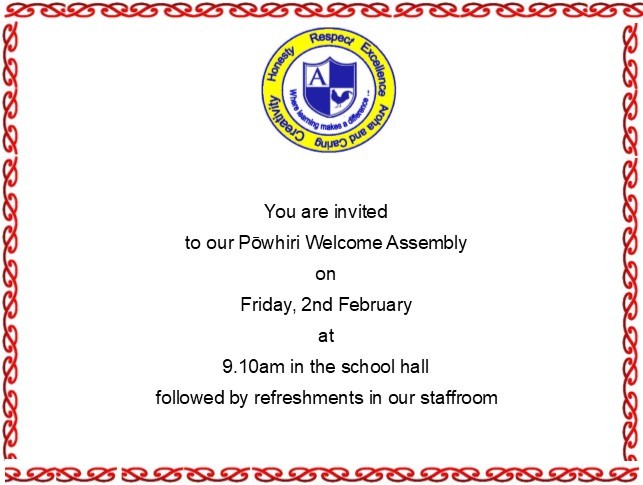 It is our pleasure to welcome you to Albany Primary School. We trust your family's association with our school will be a long and positive one.
One of the features that our school prides itself on is the sense of community we have here. Not only are your children embarking on a new journey and making new friends but we hope that through school connections you will also feel part of the wider Albany family (or whanau—pronounced "far no").
We hold a Pōwhiri Welcome Assembly for new staff, students and their families. This Pōwhiri Welcome Assembly is based on some of the traditional Maori protocol that is part of the ceremony of a Pōwhiri and will be held in our school hall at 9.10am on Friday, 2nd February. The majority of the Pōwhiri will be spoken in te reo with English translation. We welcome you and members of your extended family to participate—you will be guided on protocol. The Pōwhiri Welcome Assembly will be followed by light refreshments when you will have the opportunity to meet members of our Board of Trustees and Friends of the School.
We do hope you are able to attend, and look forward to meeting you on this day.
Kind Regards,
Maree Bathurst, Principal and the Te Reo Team
Albany Primary School
What is a Pōwhiri?
A Māori welcome on to a marae is a Pōwhiri (or pōhiri). Marae are not the only places where Pōwhiri take place - Pōwhiri can happen anywhere that hosts (tangata whenua) wish to formally greet a group of visitors (manuhiri). On this special occasion our staff and representatives from our Board Of Trustees (BOT), and Friends Of the School (FOS) will formally greet and welcome our new students, families and staff into our School Community in our School Hall.
Protocol:
Please wait outside (women at front, men at back) ready to be welcomed into the hall by your Kaikaranga. Everyone in the hall will be standing until asked to sit. You will be led into the hall by your Kaikaranga. Please sit where directed at the front of the hall. The School's speaker (Kaikorereo) will do a welcome speech (Whaikōrero) followed by a song. A speaker representing you as visitors will respond followed by a song. There will be a final speech by the School and a song. As an expression of welcome you will be invited to hongi with members of the School community. We trust that you will enjoy this special ceremony where we officially welcome you to Albany Primary School.
Explanation of a Pōwhiri:
Māori is the language used during Pōwhiri. While Pōwhiri may vary according to the occasion and the tribal area, Māori language still guides Pōwhiri. Basic Pōwhiri include the following steps:
1. Karanga is a unique form of female oratory in which women bring a range of imagery and cultural expression to the first calls of welcome (and response) in the Pōwhiri. For Ngā puhi this is done by the males.
2. Whaikōrero or formal speech making follows the Karanga. Some of the best Māori language orations are given during Pōwhiri when skilled speakers craft the language into a series of verbal images. The protocols for Whaikōrero during Pōwhiri are determined by the kawa (practices) of the marae or local iwi if the Pōwhiri is not held on a marae.
3. A waiata or song is sung after each whaikōrero by the group the orator represents. It is common to hear traditional waiata during Pōwhiri.
4. Hongi – the pressing of noses signifies the joining together of tangata whenua and manuhiri. Tangata whenua invite the manuhiri to come forward to shake hands (hariru) and hongi.
5. Mihi—you may hear several of the speakers introduce themselves with a mihi.