OMGTech Free event - children aged 8-12
My name is Hayley Campbell and I have been a teacher at Albany Primary (Years 2-6) for the past 6 years. I am available (limited availability) to tutor after school from home in English (Reading and/or Writing) and Maths this year. Please contact me on 021 212 0731 for further information.
My name is Yun Wei. I am a doctoral student with the Parenting Research Group at the Faculty of Education and Social Work, University of Auckland. I am conducting research investigating the effectiveness of Group Triple P with Chinese immigrant parents. We are inviting Chinese immigrant parents with a five to nine-year-old child who have some concerns about his or her behaviour to participate in this project.
Over the holidays former student John Sadler and his team at Tree Specs ltd did some work for us. If any parents are looking for an arborist to do anything from trimming to take downs , then call John for a professional job. Tree Specs Ltd 0800 1 2 TREE (8733) or 0275980750
www.treespecs.co.nz
MARIST NORTH HARBOUR RUGBY CLUB
Calling All Juniors to sign up for the 2018 season!
Please register online at: www.maristnh.co.nz
Followed by attendance at one of the following Registration Days at our Clubrooms – Stadium Drive, Albany:
· Fri 23rd Feb, 4.30pm - 7pm
· Fri 2nd Mar, 4.30pm - 7pm
· Fri 9th Mar, 4.30pm - 7pm
· Sat 24th Feb, 10am - 2pm
· Sat 3rd Mar, 10am - 2pm
· Sat 10th Mar, 10am - 2pm
Enquiries can be made to juniorchairman@maristnh.co.nz
Marist Junior 2018 registrations
NORTH HARBOUR HOCKEY
Have-A-Go-Hockey is designed for Year 3 & 4 children
http://www.sporty.co.nz/harbourhockey/Participation-Programmes/HaveAGoHockey-Yr-34
https://eventdesq.sportstg.com/index.cfm?fuseaction=main&EventDesqID=26860&OrgID=20725
U11 Development Clinic is designed for Year 5 & 6 children
https://eventdesq.sportstg.com/index.cfm?fuseaction=main&EventDesqID=26871&OrgID=20725

U13 Development Clinics is designed for Year 7 & 8 children
https://eventdesq.sportstg.com/index.cfm?fuseaction=main&EventDesqID=26815&OrgID=20725
In-school Excel-erated literacy tutoring
· Spelling a challenge?
· Storywriting a struggle?
· Handwriting all over the place?
Experienced and caring tutor available to teach, support and improve your child's ability to write and spell.
Booking spaces at Albany Primary NOW
For more contact: Julie 09 424 3536 or julie@thinkingcaps.co.nz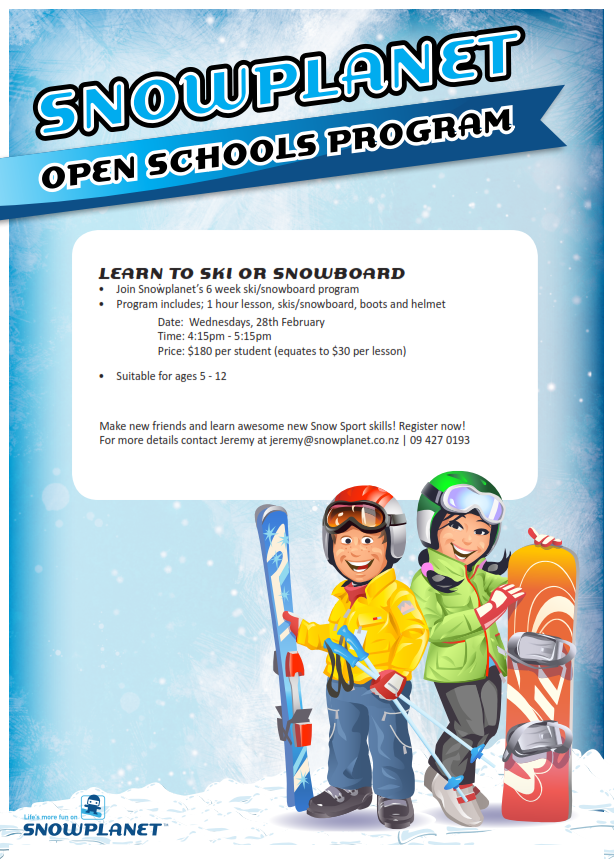 TO REGISTER YOUR CHILD WITH SNOWPLANET: https://t1openschools18.eventd esq.com/
The Westlake Girls Premier Netball Squad are holding two 3 hour coaching sessions on Sunday 4th of March to fundraise for their upcoming tour to Melbourne in April. These sessions will be run by their coach, former Silver Fern, April Ieremia, with the help of the premier squad. The clinic is ideally suited to players from Years 5 to 8, however younger players can also attend and will still find it beneficial. The sessions have been organised to coincide with preparing the players for the upcoming school trials and preparing for the start of the season. We will focus on skills, positional play, attacking, defending, trial tips and will include some games to put their new skills in to action. The sessions will be fun and appropriate for all levels of ability.
THE DIGITAL REVOLUTION AND ITS IMPACT ON OUR YOUNG PEOPLE.
Thursday 22nd March - 7pm
WILLOW PARK SCHOOL HALL
Come and hear Rawdon Christie gives us his take on the Digital Revolution. Tickets are on sale now through Event Bright by following the following link.
(Click here or copy and paste https://www.eventbrite.co.nz/ o/willow-park-school- 15839769634)
DESCRIPTION
Rawdon Christie is an award-winning broadcaster with twenty years' experience in communication and media. His career started with the BBC but he is best known for his five years presenting TVNZ Breakfast show, where he interviewed hundreds of guests, from senior politicians and business leaders to Oscar winners and Olympic champions. Rawdon has now transferred his love of story-telling - and of talking - to helping others communicate.
He believes that effective spoken communication is essential in building any successful relationship, be it personal or professional, but he is worried that the digital revolution, while making communication easier than ever before, is also stopping us from talking to each other. His presentation WE NEED TO TALK will look at our digital future and the challenges it presents.